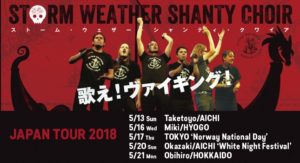 Det er ei glede å melda at Storm Weather Shanty Choir er inviterte til å turnera i Japan for tredje gong. Mellom 11. -23. mai vil dei gjera fem konsertar og ein showcase.
Då Storm Weather Shanty Choir spela på Folkelarm i 2008 var det ein representant for turnearrangøren Harmony Fields tilstades. Harmony Fields inviterer kvart år eit ekslusivt utval av skandinaviske folkemusikarar til Japan, og i 2010-2011 var bl.a. Valkyrien Allstars og Sudan Dudan på programmet deira. Harmony Fields kontakta oss først i mai 2010 med invitasjon om å gjere turne i november 2011.
Dei ti dagane i Japan i november 2011 gjekk over all forventing. På sju konsertar spela me for nærare ti tusen menneske, spela støttekonsert for tsunamiråka ungdomsskuleelevar, headlina ein skandinavisk festival i Osaka, hadde showcase for viktige bransjefolk i Tokyo, spela for utselde hus i Tokyo, Himeji og Hiroshima, og fekk oppslag med bilete i to av landets største aviser, Yomiuri Shinbun og Mainichi Shinbun. Då me reiste frå landet hadde me ståande invitasjon om å komma tilbake, og i oktober 2013 blei det såleis ny turne i Japan.
Det blei ti nye, ubeskrivelege turnedagar. På fem konsertar fekk me spela for rundt 1500 menneske, gjera støttekonsert for tsunamiråka ungdomsskuleelevar og spela for utseld hus i Tokyo. Den japanske utgåva av gruppa si femte plate, A Drop of Nelson`s Blood, vart lansert 3. oktober 2013, og vart godt motteken. Fleire hundre plater blei selde i løpet av turneen, og kvar konsert vart avslutta med signeringsøkt med lange køar.
Storm Weather Shanty Choir tolkar samarbeidet med Harmony Fields som ei stor anerkjenning av det arbeidet me gjer. Me er det einaste profesjonelle sjantikoret i Noreg, og vår misjon har heile tida vore å auka statusen for sjøens songar, samt å gjere denne tradisjonen attraktiv for den yngre garde, der den høyrer heime. Me har i stor grad lukkast med dette i Noreg, og spelar for fulle hus på både på folkemusikkareaner (Riksscenen, Columbi Egg) , på studentstader ( Folken, Det Akademiske Kvarter) og rockevenuar (Mono, Skuret/Familien) . Vår måte å tolke sjøens songar på har også ført oss til både rocke- og folkescenar i Sverige, Danmark, Skottland, England, Sveits, Nederland, Polen og Tyskland, og stadfestar at me har noko heilt unikt å tilby.
Storm Weather Shanty Choir vil takka Music Norway for reisestøtte!