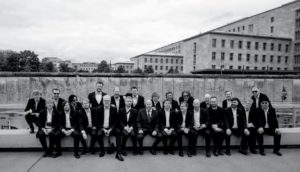 Heilage Neptun! Gjer dykk klar til tidenes konsert når me slår oss saman med det legendariske Mannskoret, beståande av unge og gamle rockarar og kulturpersonlegdomar, på Riksscenen i Oslo, 6. oktober!
Arrangøren Bakkjens Basar skriv følgjande:
Storm Weather Shanty Choir
17 år etter oppstarten har dei seks sjøulkane frå Stord framleis god vind i segla sine og held fram med å fremje den maritime musikkarven på sitt rocka og inkluderande vis. Ein konsert med SWSC er ikkje som andre konsertar, med mindre rungande allsong på songar du ikkje har høyrt før er gjengs vare. Anført av kaptein Håkon Steinar Vatle syner SWSC alltid fram sitt skyhøge energi- og formidlingsnivå, og det på ein såpass overtydande måte at ein skal vera relativt innadvendt og gothic anlagt for å ikkje la seg rive med. Storm Weather Shanty Choir har sunge seg over fleire hav og til mengder av havner dei seiste ti åra. Karane har vore på turnear i både USA og Japan og halde over 400 (!) konsertar her til lands og rundt ellers i Europa. Dei har gjeve ut seks fullengarar der den seiste er ein dokumentasjon på det karane meistrar betre enn dei aller fleste – me snakkar sjølvsagt om den sjølvforklarande plata "Live"!
Mannskoret er i år 15 år og består av tjueto skravlefantar, fire bassistar, ein haug fedre, nokre trønderar, fire vokalister, eit par bergenserar, to skodespelarar, ein t-skjorteselgar, to regissører, ein bilmekaniker, tre komikarar, ein animatør, elleve nærsynte, fire motorsyklistar, seks døgeniktar, ein ekte østerdøl, ein frimerkesamlar, eit par hobbykokkar, nokre rundbrennarar, så godt som ingen nordlendingar, fem hårlause menn, fire radiofjes, nokre fyllikar, tre gitaristar, seksten ektemenn, tre programleiarar, tolv tullingar og ein bæring eller to. Nokre er særskilt risikosøkande, nokre litt i overkant engstelege, for mange er langsynte, tretten fråskilde, to flugefiskarar, minst ein nyforelska, mange frilanserar, ein manager, to-tre langhåra, og to skaphomser (statistisk sett). Kort sagt – knapt tretti relativt alminnelege og heilt uvanlege menn, alle fine i tøyet.
Mannskoret repertoar spenner over alt frå smektande korperler og sarte viser til norske rockeklassikarar og beinhard punk ispedd hymner til sprit og umoral. Her får du servert ein blanding av Jokke og Valentinerne, Bellman, The Aller Værste, Raga Rockers, Dead Kennedys, Cornelis Vreeswijk, Kjøtt, Imperiet, Knutsen & Ludvigsen, Frank Zappa, Stefan Sundström og Ramones – a capella!
Legg til nokre fordums nasjonalsongar og kvalifisert tullprat av rimeleg høg kvalitet og du har MANNSKORET – vel møtt!